Orochi Network Announces Strategic Partnership with Zone9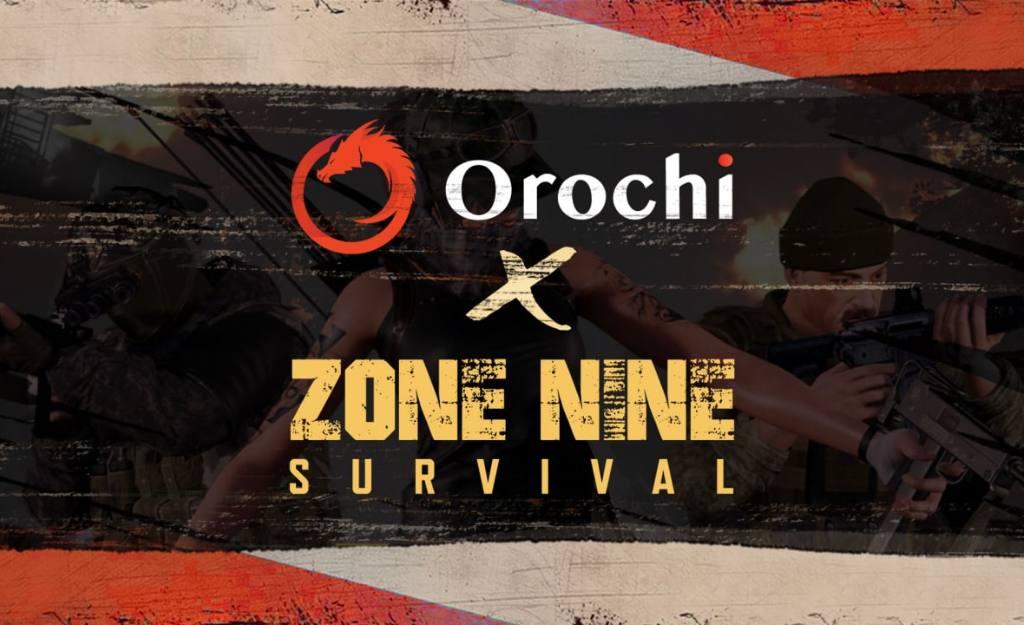 February 15, 2023 -
Orochi Network and Zone9 Survival are proud to announce a partnership aimed at revolutionizing the gaming and blockchain industries. Orochi Network is the operating system for Web3 ecosystem, focusing on providing infrastructure for decentralized gaming and metaverse. Meanwhile, Zone9 Survival is a AAA quality, blockchain-integrated 3D MMORPG that takes place in a post-apocalyptic world and is designed for gamers who value gameplay and community. 
Under this strategic partnership, Orochi Network and Zone9 Survival will collaborate in several areas, including technology support, business development, and marketing development.
Technology Support
Orochi Network will integrate Zone9 Survival into its ecosystem, enabling Zone9 to leverage Orochi Network's extensive network of Layer 2 and Zero-Knowledge Proof technology. Both companies will explore the potential of migrating Zone9 services/applications onto Orochi Network's blockchain platform and integrating Zone9 dApps onto Orochi Network's interoperable platform. Orochi Network will also assist with the integration of Zone9 smart contracts and server infrastructures with its network.
Business Development
The two companies will work together to create opportunities for future joint activities and projects, turning technology into innovative tools and solutions for the use of both companies and their clients. We will support each other in business connections and referrals, and work towards expanding overseas into new markets.
Marketing Development
Our partnership will also focus on marketing development, with the integration of marketing initiatives and synergy to provide local market support. We will collaborate on community engagement efforts and promote use cases and collaborations of Zone Nine Survival and Orochi Network. Additionally, we will assist each other in efforts to mutually promote our brands and make marketing efforts for our products and services.
Furthermore, we will support each other in expanding our reach and building our networks by providing referrals and recommendations of potential B2B and B2C partners in both traditional industries and the blockchain space.
This strategic partnership will bring together the best of both worlds, combining Orochi Network's cutting-edge operating system with Zone9 Survival's immersive gaming experience. As the collaboration between Orochi Network and Zone9 takes shape, users can expect to see a range of benefits emerge. With Orochi Network providing the infrastructure for decentralized gaming and Zone9 bringing their expertise in blockchain-integrated gaming, users will be able to experience a new level of interactivity and engagement within the world of gaming. Furthermore, the integration of Orochi Network's layer 2 solutions and ZKPs technology into Zone9 will enhance the gaming experience, hence, users can expect faster, reliable, more efficient and secure gameplay, with the added assurance of verifiable computation.
"We're delighted to announce our partnership with Zone9 Survival. At Orochi Network, we are dedicated to providing a secure and efficient infrastructure for decentralized applications and games, and we've found a partner in Zone9 that shares our commitment to innovation in the gaming and blockchain space. We're eager to explore the possibilities of our collaboration and bring new solutions to the market." - said
Mary Tran, Founder of Orochi Network
"We're honored to be partnering with Orochi Network to shape the future of gaming and blockchain. Our collaboration will merge the best of both worlds - Zone9 Survival's immersive gaming experience and Orochi Network's cutting-edge blockchain technology. We're excited to create new opportunities for gamers and developers alike, and we can't wait to see what the future holds for our partnership." - said
Bang Anh, Founder of Zone9
About Zone9 Survival
Zone Nine Survival is a 3D MMORPG, blockchain-integrated AAA quality game that takes place in a Post-Apocalypse world. It's been designed for gamers that value game play, and community. Z9S uses Unreal Engine to bring an immersive experience where players can thrive among the chaos of a new World in ruins. Survivors will hold ultimate power over what's left of Earth - Nine Zones. Out of the ruins of the old world, players will build a new society.
About Orochi Network
Orochi Network is a cutting-edge zkOS (An operating system based on zero-knowledge proof) designed to tackle the challenges of computation limitation, data correctness, and data availability in the Web3 industry. With the well-rounded solutions for decentralized gaming and metaverse applications, Orochi Network omits the current performance-related barriers and makes ways for more comprehensive dApps hence, becoming the backbone of Web3's infrastructure landscape.
Categories
Partnership Announcement
9
Verifiable Random Function
5
Tag
Orand
NFT
Misc
Web3
Partnership Announcement
Layer 2
Event Recap
Immutable Ledger
Oracles
Verifiable Random Function
Zero-Knowledge Proofs
Multisignature Wallet