Orochi Network x Mystic Treasure: Official Partnership Announcement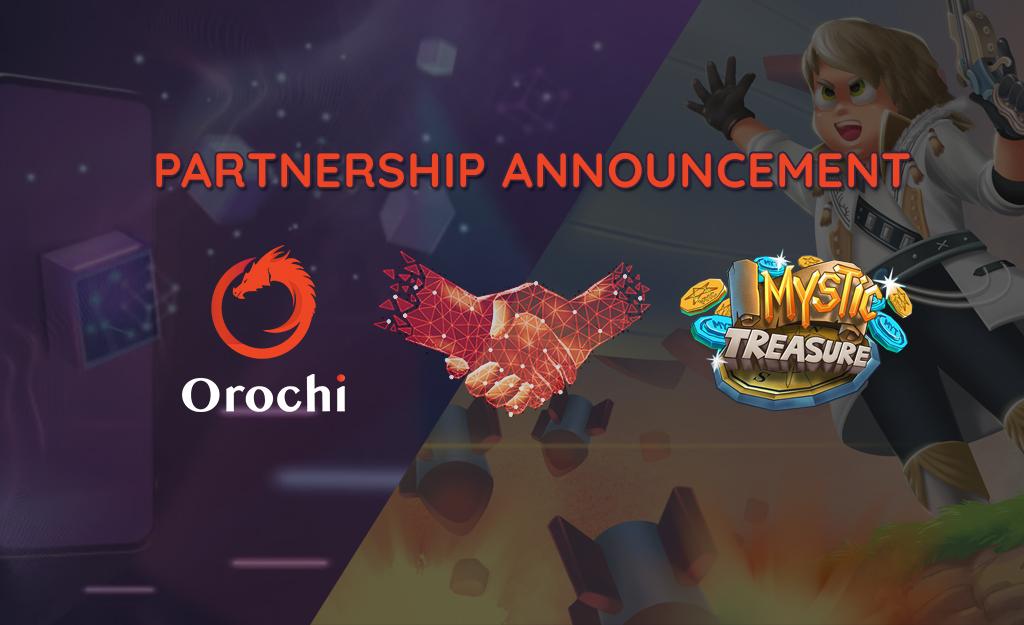 February 23, 2023 -
We are excited to announce a new partnership between Orochi Network and Mystic Treasure, which will bring unparalleled transparency and fairness in-game experience to Mystic Treasure's GameFi project. Mystic Treasure is a 100% decentralized Learn-and-Earn RPG Adventure Game enhanced with Simulation. It is not only a GameFi project but its goal is to become a strong marketing hub to gather communities, generating lucrative values for users and partners.
As part of this partnership, Orochi Network will be providing a cutting-edge randomness solution based on verifiable random function (VRF) using elliptic curves (ECVRF). This innovative technology will be integrated into Mystic Treasure's platform, ensuring that all in-game activities that require random results, such as minting NFTs and opening treasures, are generated in a fair and transparent manner.
At Orochi Network, we pride ourselves on being at the forefront of blockchain innovation, and we are excited to work with Mystic Treasure to deliver a world-class gaming experience for its users. By leveraging our VRF technology, Mystic Treasure can provide a level of trust and integrity that is essential for any gaming platform. In addition to providing cutting-edge VRF technology, Orochi Network is also excited to offer Orosign to Mystic Treasure. Orosign is a powerful digital asset management platform that enables players to manage their in-game assets and tokens with ease and efficiency. With Orosign, Mystic Treasure's players can easily view and track their in-game assets, as well as securely trade and manage their tokens.
Mystic Treasure is also excited about this partnership, and we are confident that our collaboration will bring significant benefits to our users. Our partnership represents a step forward in the blockchain gaming industry, and we look forward to seeing the impact it will have on the industry as a whole.
Together, Orochi Network and Mystic Treasure are dedicated to providing an exceptional gaming experience that is transparent, fair, and enjoyable for all users. We are excited about the possibilities that this partnership brings, and we can't wait to see the future of GameFi unfold.
"We are delighted to have partnered with Mystic Treasure to provide our cutting-edge VRF technology and Orosign digital asset management solution to its users. At Orochi Network, we are committed to delivering innovative solutions that will help drive the blockchain gaming industry forward, and we believe that our partnership with Mystic Treasure is a significant step towards achieving this goal. We look forward to continuing our collaboration with Mystic Treasure and delivering world-class gaming experiences to users." -
Mary Tran, Co-Founder of Orochi Network.
"Our partnership with Orochi Network has been a game-changer for our platform. With their VRF technology and Orosign digital asset management solution, we can provide our users with a level of trust, transparency, and convenience that is essential for any successful gaming platform. Orochi Network's commitment to innovation and excellence has been evident throughout our partnership, and we are excited about the possibilities that our collaboration brings. We look forward to continuing to work with Orochi Network to deliver exceptional gaming experiences to our users." -
Trump, CMO of Mystic Treasure.
About Mystic Treasure
Mystic Treasure is a 100% decentralized play-to-earn RPG adventure game enhanced with simulation. In this world, players are entitled to the ultimate power to fully customize their "virtual life" with fascinating experiences such as: Solving puzzles and hunting treasure, building houses, and crafting useful items to survive in-game.
About Orochi Network
Orochi Network is a cutting-edge zkOS (An operating system based on zero-knowledge proof) designed to tackle the challenges of computation limitation, data correctness, and data availability in the Web3 industry. With the well-rounded solutions for decentralized gaming and metaverse applications, Orochi Network omits the current performance-related barriers and makes ways for more comprehensive dApps hence, becoming the backbone of Web3's infrastructure landscape.
Categories
Partnership Announcement
10
Verifiable Random Function
5
Tag
Orand
NFT
Misc
Web3
Partnership Announcement
Layer 2
Event Recap
Immutable Ledger
Oracles
Verifiable Random Function
Zero-Knowledge Proofs
Multisignature Wallet