5 Trend Predictions for Web3 in 2023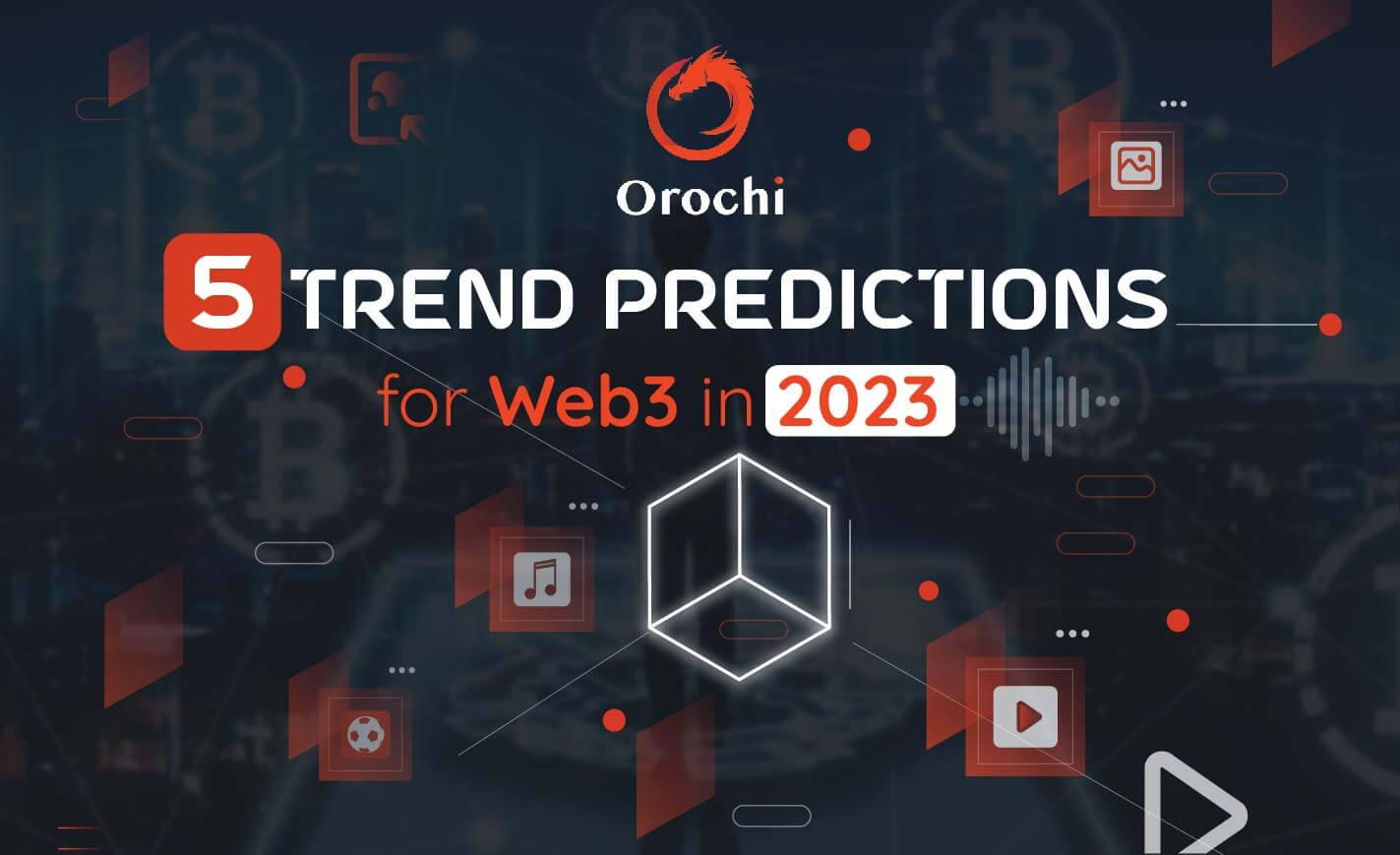 Web3 trends are growing at a fast pace, indicating that they are crucial for any brand. The next generation of the web will bring revolutionary development and alterations in usage.
Web3
includes a variety of patterns that make up the so-called decentralized web. The vision of Web3 is to create an internet that isn't controlled by giants such as Facebook and Google that restricts us from freely doing what we want on the internet. Technologies such as blockchain, cryptocurrencies, non-fungible tokens (NFTs), and decentralized autonomous organizations (DAOs) in Web3 will allow us to establish an online environment that is owned and controlled by ourselves. With that being said, let's look at the 5 trend predictions for Web3 in 2023.
Interoperability
Interoperability is an integral part of Web3 technology. The segregated applications in the current generation of the internet make it impossible to expand upon them. Web3 allows users to carry their information with them wherever they go and allows apps to be built upon without authorization. This results in a digital economy that can develop more quickly, is more adaptive and resilient. In order to deliver a smooth experience, interoperability in Web3 refers to the process of integration of several virtual environments, platforms and applications. Brands can take advantage of the security and flexibility of Web3 to expand and develop.
NFTs with Utility
At the moment, most non-fungible tokens are just digital pieces of art with unbelievable prices. Due to this lack of practical use,
NFTs
have a questionable image and this entire business has been called a big bubble. However, the advent of utility NFTs that we are presently witnessing offers NFTs a new face. These digital assets now provide tangible benefits like entry to exclusive events or tangible goods. The keys to our virtual homes or smart contracts, which are used to make agreements with others for the exchange of goods and services, may also be utilized with them. By 2023, the emphasis will be on NFTs that can really do tasks rather than only serve as virtual works of art. The popularity of Web3 should alter how people see this potent technology.
Decentralized Metaverse
The idea of the Metaverse, which combines theories about potential futures for the internet, has gained popularity. However, proponents of Web3 picture a distinct version of the internet that is not governed by huge tech companies. This explains why decentralized virtual environments will play a significant role in achieving Web3's goals in the future. The pioneers of this technology will continue to advance in 2023 with the goal of making it a reality in one day.
The Sandbox and Decentraland are two of the most well-known decentralized metaverses. Since the data for these virtual worlds is maintained on the Ethereum blockchain, no single entity has control over any behaviors that go against their principles or the ability to suddenly shut it down. The Metaverses created with decentralized blockchain technology offer a special feeling of community when the balance of power is flipped. Decentralized metaverse have flat organizational structures in place of hierarchical ones, which makes the concept of benefit sharing more obvious. This enables users to subsequently regain ownership of their property, mostly their data and profits.
Decentralized Social Networks
Users are given more control over their data by shutting down centralized social media platforms like Facebook and Instagram. Decentralized social media is thus a key benefit of Web3. People can connect with influencers and businesses with the aid of their digital assets and Web3 identities. Similar to this, Web3 social media offers a variety of channels for influencers and brands to connect with their customers, ensuring that they receive the most exposure possible. This improves their fan interactions, which helps them make more money. Additionally, decentralized social media platforms give creators better monetization options via NFTs for fair pricing.
Some crypto-savvy users are switching from traditional social media to recently developed Web3-based ones. This has been very advantageous for both projects and businesses. One web3 application that helps Web3 communities grow and thrive is
Crew3
. Future Web3 social media platforms might resemble such apps more than the ones currently in use.
Virtual Identities
In contrast to virtual identities in Web 2.0, Web3 gives each user their own digital wallet that acts as a unique identity. The process of logging into and out of web-based apps is made simpler and more easy by doing this. When using Web3 platforms, it also enables the user to choose which information to disclose. Consequently, some businesses have started to create digital identity platforms that enable users to create their own virtual identities. Users may link their online activities across many social networks and websites thanks to these platforms. Users are intended to benefit from interoperability by having more flexible navigation and a distinct virtual identity across Web3 platforms.
Final Words
It's going to be an exciting journey as the year begins. Although there is still much to be done before Web3.0 becomes a fully realized reality, 2023 appears to be the year in which many of the present challenges - such as a lack of crypto regulations, centralized social media, unsustainable projects, and utility-missing NFTs - are actually addressed.
About Orochi Network
Orochi Network is a cutting-edge zkOS (An operating system based on zero-knowledge proof) designed to tackle the challenges of computation limitation, data correctness, and data availability in the Web3 industry. With the well-rounded solutions for decentralized gaming and metaverse applications, Orochi Network omits the current performance-related barriers and makes ways for more comprehensive dApps hence, becoming the backbone of Web3's infrastructure landscape.
Categories
Partnership Announcement
10
Verifiable Random Function
5
Tag
Orand
NFT
Misc
Web3
Partnership Announcement
Layer 2
Event Recap
Immutable Ledger
Oracles
Verifiable Random Function
Zero-Knowledge Proofs
Multisignature Wallet